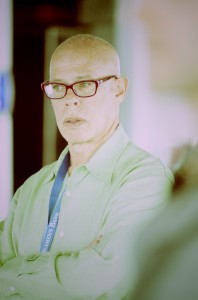 David Kaplan stages plays around the world.
Photo by Ride Hamilton
DAVID KAPLAN resume January 2016
Plays directed by David Kaplan include a Sufi King Lear in Tashkent, Uzbekistan, performed in the Uzbek language; Genet's The Maids in Ulaan Baator, Mongolia, performed in Mongolian; A Midsummer Night's Dream in Buryatia, performed in the Buryat language with shamans.  In Russia, Mr. Kaplan staged the first Russian-language productions of Auntie Mame and Eugene O'Neill's Ah, Wilderness! Also in Russia, in Russian: Macbeth. July 2014 he staged Edward Albee's Three Tall Women in Cantonese at the Hong Kong Repertory Theater.
Plays directed by Mr. Kaplan have appeared in 40 of the 50 United States. These include his own adaptations of Charles Finney's The Circus Of Dr. Lao and two American operas: Stephen Foster's Beautiful Dreamer and Gertrude Stein's Dr. Faustus Lights the Lights. More traditional repertory staged by Mr. Kaplan include Genet's The Maids in New York and Chekhov's Cherry Orchard in Los Angeles. He has staged spectacles at the Atlantic City and Las Vegas Convention Centers, the Coney Island Wax Musee, Webster Hall, The Sarajevo Winter Festival, and a multi-ethnic celebration for Benneton in the Central Park Zoo.
Mr. Kaplan is curator and co-founder of the Provincetown Tennessee Williams Theater Festival now in its 10th year. He has staged Williams' plays worldwide. In 2003 Mr. Kaplan directed Tennessee Williams' The Eccentricities of a Nightingale in Cantonese at the Hong Kong Repertory Theater. In 1993 he directed and designed the Russian premiere of Suddenly Last Summer in Samara, and in 2007 in Chicago, the world premiere of Williams' The Day on Which a Man Dies. In 2012 he directed and designed Ten Blocks on the Camino Real for performances in Rioplatanese Spanish at the marketplace of Paysandu, Uruguay. In March 2015 he directed four short one-acts by Williams at the Hermann-Grima House Museum, an historic boardinghouse in New Orleans.
In September 2015 a collection of his essays from the last decade was published under the title Tenn Years: Tennessee Williams On Stage. He is also the author of Tennessee Williams in Provincetown and the author of two series of theater textbooks: Five Approaches to Acting and Shakespeare, Shamans, and Show Biz (Hansen Publishing Group). He is the editor of Tenn at One Hundred, a comprehensive look at Williams' evolving reputation.
Since 1979 he has collaborated on two solo shows which he adapted and directed. The revival of Ruth Draper's monologues performed by Patricia Norcia, The World of Ruth Draper, is a repertory in 12 languages (some of them invented) which plays for a total 9 hours. Miss Norcia performs the Draper repertory to sold out audiences at Carnegie Recital Hall in New York and has appeared in Tokyo, Munich, Rome, and London's West End.
June Recital, Mr. Kaplan's tribute to Mississippi author Eudora Welty was written with and has been performed by Brenda Currin since 1979. Critically acclaimed performances throughout the United States include extended runs in New York, Chicago and Philadelphia. A compact disc recording was released in 2002 with live concert performances in 2003 throughout the state of Mississippi and at the International Eudora Welty Colloquium in Rennes, France. Most recently Miss Currin performed June Recital in 2015 in concert with the Mississippi Symphony Orchestra as part of the Welty Biennial.
The Welty Biennial, which Mr. Kaplan founded and curates, ran April 10, 2015 for twelve weeks, circling out from the Mississippi Museum of Art in Jackson, Mississippi, the capital of the state, where Miss Welty was born, grew up as a child, and made her home for the rest of her life. Related events, installations, performances, and contests took place throughout the city, including the Mississippi Symphony Orchestra and the Jackson Planetarium.
He has held classes for actors since 1980. He has taught and lectured at Bard, Clark, Hofstra, NYU, Colombia, Rutgers, The University of New Mexico, The University of the South, Mississippi State University, The Siberian Academy of Fine Arts (in Russian), the Hong Kong Academy of Performing Arts, and the William Esper Studio in New York. His professional students in New York and Los Angeles have won numerous stage awards, including the Tony. Three theater companies have formed out of Mr. Kaplan's classes, including Artificial Intelligence, the creators of the long-running Tony N Tina's Wedding. Mr. Kaplan holds degrees from Clark University and the Yale School of Drama. His teachers include Jan Kott, Richard Gilman, Robert Brustein, Lee Breuer, Stanley Kaufman, Lou Criss, and in Russia, Peter Monastersky.