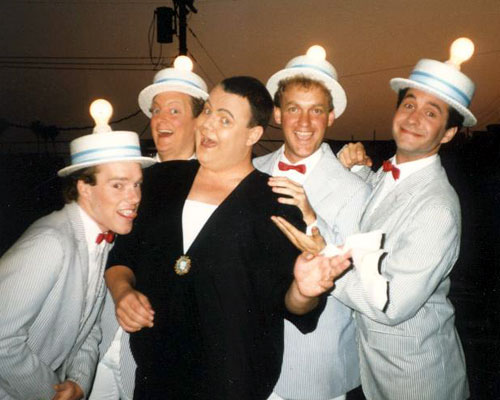 In Gertrude Stein's version of the Faust legend, Faust invents the light bulb.
This production began with the story of Faust as written and performed by two seven year-olds. A full-voiced sampling of arias from Boito's opera Mephistopheles followed, then Stein's uncut text performed to an a cappella score created by the cast in rehearsals. All of this was presided over winningly by Glenn Shadix as Miss Stein. The singing lightbulbs were a particular crowd- pleaser. Here they are warming up backstage.
That's the wonderful singer and Broadway actor Michael Winther with his tongue sticking out.
"Genuine insights. Hilarious homage. Charming? Yes. Inspired? Indeed." Los Angeles Herald Examiner