Tennessee Williams' meditation on the death of Jackson Pollock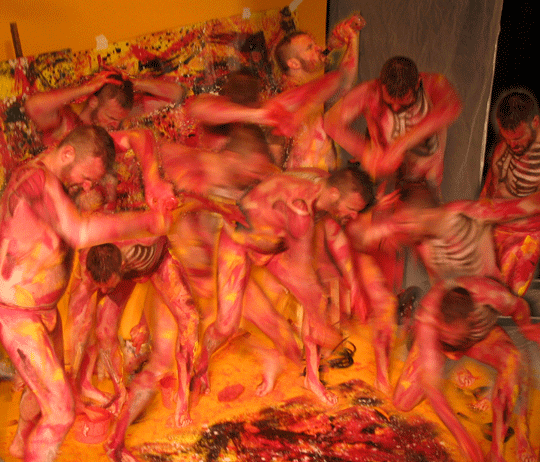 The Day on Which a Man Dies was written by Tennessee Williams at the height of his public success (1957-59) and kept by the author in reserve. The action in the text is a lover's quarrel. The main characters are The Man, an acclaimed painter now mocked for his new technique of applying paint with spray-guns; The Woman, the painter's sharp-tongued companion for eleven years, who has lost faith in him and in his work. The couple argue violently, make up, make love, and betray each other. The Man's suicide follows soon after. The ceremony of dying has him crashing and crawling through increasingly larger paper screens on which the Woman's body has been painted. Photo montage by Michael McGowan from the 2009 version with Jeff Christian. Photo below by Johnny Knight of Steve Key, who created the role. See also the 2016 production with Marcel Meyer.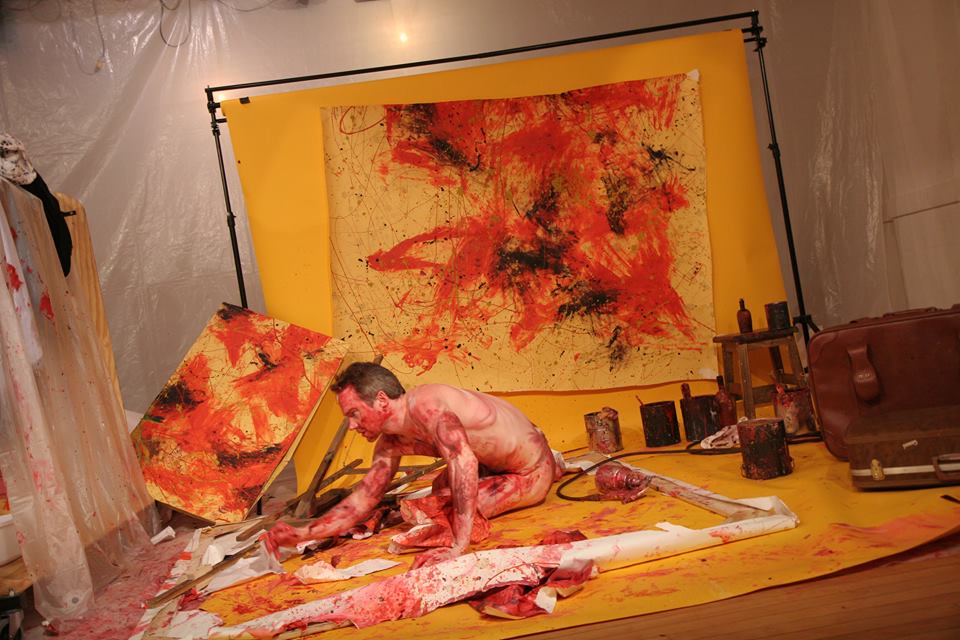 Read more.
Williams subtitled the text An Occidental Noh Play. Noh plays are ghost plays, and the ghost evoked in Williams' play is Jackson Pollock, who had befriended Williams in 1940. Pollock's pursuit of new forms beyond the safety of convention represented for Williams a stage-worthy image of a romantic artist – writer or painter – damned for pursuing his visions. Yukio Mishima, the Japanese author of voluptuous excess and precision, also haunts the text. It was Mishima's "modern Noh plays" and a 1959 visit by Williams to Mishima in Tokyo that lent the playwright a dramatic form with which to embody self-willed damnation. For 
The Day on Which a Man Dies 
Williams created a third role – a wry Mishima stand-in – who reflects on sex as power while explaining how Japanese and Western suicides differ, subjects that fascinated Mishima. A shape-shifting stage servant completes the cast, whose role of self-effacing enabler is taken from the conventions of Kabuki.
In David Kaplan's definitive production, first shown in Chicago in 2007, the scenery is made entirely of paper that is crushed, rattled, cut with a knife, ripped, soaked, spattered, and sprayed with paint. As per Williams intentions, paintings are created and destroyed in the course of the performance.  The bodies of the actors are painted. A progression of color specified by Williams for costumes, scenery and props organizes the meanings of every aspect of the text: story, characters, and the structure of the play. Continue reading →